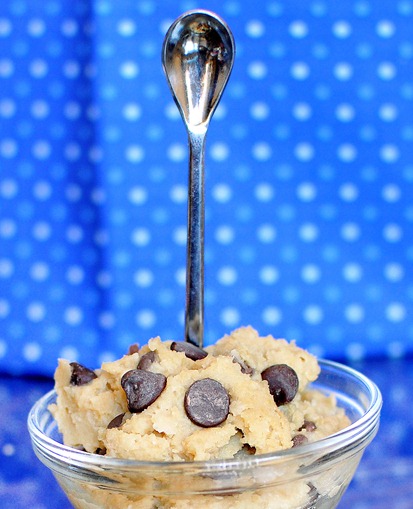 Doesn't that look good?
Oh to the em to the gee!!! IT IS!
The hardest part about me watching what I eat is watching the sugar. I love sweets! Did you get that?
I LOVE SWEETS.
I got this recipe from Chocolate Covered Katie .
1 1/2 cups chickpeas (1 can, drained)
heaping 1/8 tsp salt
tiny bit over 1/8 tsp baking soda
1 T plus 1 tsp pure vanilla extract
1/4 cup nut butter (You can get away with using only 3 T. If you use peanut butter, some people say it has a slight "pb cookie dough" taste, so you can sub oil if you don't want that.) *I used all natural peanut butter but next time I'm going to try to find a different nut butter*
1 and 1/4 cup pitted dates –find these close to the raisins
1/3 cup chocolate chips
2 T oats (You can omit)
nondairy milk as needed (depending on the consistency you want. I used a few T.)
In a bowl, cover the dates with 1/2 cup water. Let this sit for at least 8 hours. Then add all ingredients (including the dates' soaking liquid), except chocolate chips, to a food processor and blend until very smooth.
The part to remember is that you have to let the dates soak for so long. I made this thinking that it probably wouldn't taste as good as cookie dough. I mean come on, chick peas tasting good? Fooled me! Hubs loves it too! :)