We decided to not make the blog private, just to make a few changes! When you are leaving comments please be sure not to use our last name or any of the kiddos names! Speaking of, here are their blog names: Oldest child=G-man, Middle child=Master P, Youngest child=Baby girl.
Now on to more important things..... ROLLLLLLLLLLLLLLLLLLLLLLLLLLLLLLLLLLLLLLLLLLLLLLLLLLLLLLL TIDE!!!! We seriously beat the bejesus out of Georgia last weekend! What an awesome ballgame! And the email's are flying around! Here are some of the funny pics I have received in the last few days!
So this coming Saturday we shall "Wreck the Wildcats"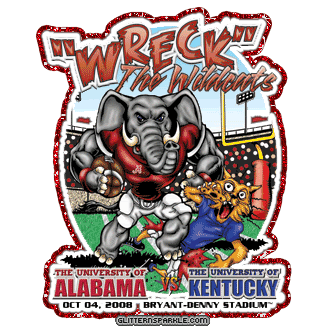 Until next time, toodles!
xoxo